Rebuilding America's Communities, One Small business at a time
IceTech HUBZone Plan and Operation
IceTech provides Federal contracting assistance to:
Increase employment opportunities
Stimulate capital investment in hard unemployment areas
Empower communities through economic leveraging and multiplier effect.
As a very successful HUBZone company, IceTech's compensation plan is designed to attract and retain employees—helping to ensure long-term, home ownership and increase quality service at IceTech and our client's sites. Our compensation plan is divided into two areas—salaries and benefits. There are several key aspects to our plan that have proved very successful at IceTech in fulfilling the requirement that 35% of a HUBZone firm's employees reside in a HUBZone.
IceTech hires and attracts the best and offers competitive salaries and above-industry standard benefits. IceTech continually reviews our compensation plan, provides training, and offers our employees a challenging work environment with opportunities for career growth either with other Icetech Incentives and Retention Programs or within our extensive industry partner organizations. Each employee is committed to Icetech's growth and progress. Icetech supports this dedication by providing highly competitive wage opportunities, an extremely flexible, company-sponsored insurance plan, a competitive paid time off (PTO) plan and holiday schedule, tuition assistance, and the opportunity for bonuses. Icetech also provides employees with a 401(k) savings plan, and an employee hand book with all the policy plans.
IceTech provides economic development through its established neighboring residential gated community program, located right across the street where Icetech's professional employees can live near the IceTech facility. As a HUBZone certified small business company, IceTech has a 3% turnover rate as we retain our personnel, subject to the purpose of the HUBZone program in the FAR Part 19.1301, through employment opportunities, investments, and economic development. IceTech provides employment opportunities targeting professional and highly skilled and trained community residents into this program. In addition, Icetech provides investments through its professional training and certification programs such as the ISSO 2700, CISCO, CISSP, CASP, Cyber Security, and many others.
ICETECH Inc.
940 West North Avenue
Baltimore, Maryland 21217
Tel: (800) 490-3117
410.225.3117
Fax: 410.225.3120
Education and Training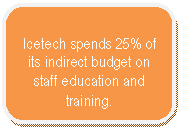 IceTech encourages employees to learn new skills and develop new areas of expertise. IceTech's policy in this area is driven by the belief that each individual's development and growth is synonymous with the company's development and growth. Our International Organization for Standardization (ISO) 9000:2015 registration requires us to document and show advancement in employee competencies.

IceTech also provides for a wide range of technical seminars and courses as needed to keep professional and technical staff current in their professions and with their ongoing assignments.

An annual training plan is developed for both technical and management personnel. This plan is developed with input from employees, supervisors, and clients. The objective is to take into account the needs of all three entities (client, employee, and IceTech) and develop a comprehensive plan addressing needs and priorities. Training is provided through various methods—instructor led, informal "brown bag" sessions, computer-based training (CBT), and Internet online training.

Also, IceTech is a Professional training center, where we encourage our employee to get their certifications like CISCO, EXIN, CISSP, CSP, and many Industry standards. With the increase in quality training being developed for self-paced, online, or CBT delivery, and certification the impact on the support environment can be virtually eliminated. We at IceTech reimburse up to $3,000 per year for job-related advanced study and $1,500 reimbursement for College Tuition.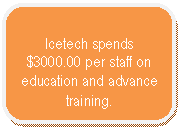 In addition to providing on-the-job and external training, we encourage our employees to join and participate in professional organizations within (and sometimes outside of) their field of expertise. These organizations focus on topics ranging from IT and Web-based technologies to scientific and medical research information. The following list includes the names of Web-based and scientific organizations listed in the solicitation as well as other similar organizations, all of which have IceTech employees as members:
American Chemical Society;
Association for Computing Machinery;
American Society of Microbiology;
Institute of Electronics and Electrical Engineering;
EXIN ISO2700 Security, PM, ISO Quality
American Society for Information Science and Technology;
Cisco Professional Certifications (CCNA, CCNP, CCDA, CCIE, etc.).

Relocation Assistance

When local job candidates cannot be found within the local client area IceTech will assist through a 3rd party nonprofit organization Live Baltimore http://www.livebaltimore.com to help search for living places to live. When appropriate, eligible new employees will receive relocation assistance. This valuable option helps new employees to successfully transition into their new living and working environments here at Icetech.
New employees that are eligible for relocation assistance can submit their moving expenses to IceTech. Once the expense submission has been reviewed and approved, the new employee will be issued a payment reimbursing them for any allowable relocation costs incurred. Reimbursements are tax free to the extent permitted by IRS regulation.

Flextime and compressed work week

Flextime refers to a range of scheduling systems that allows employees to adjust their arrival and departure times within specified ranges. Employees must work a standard number of hours within a given time period, such as 40 hours during a five-day workweek. Some flextime plans allow workers to change their schedules frequently—even daily—while others require commitment to a set schedule for a period of weeks or months.

Compressed workweek is schedule permitting a full-time employee to perform the equivalent of a week's work in fewer than five full days. In exchange for working longer days, employees enjoy larger blocks of time off.


IceTech has established an Employee 401(k) feature. Employees may participate in IceTech's 401(k) plan after six months of service. Employee accounts are self-directed and may be allocated among a diversified mix of mutual funds. Icetech may provide a discretionary matching contribution to participant 401(k) accounts for a plan year.

The ESOP with 401(k) feature provides IceTech's employees with the opportunity to participate in the growth and success of the company and to be rewarded for their own contributions to that success.